Whatever massive food conglomerate makes Fiber One bars (they are so modest and heroic and humble they don't even identify themselves on the wrapper) should be given the National Medal of Freedom for their tireless efforts to make low-calorie, high-fiber versions of most of the desserts I don't allow myself to eat anymore.
First a warning about Fiber One products. They are so tasty, but you need to BE CAREFUL. You may have one Fiber One bar. If think you deserve a treat you may have two Fiber One bars. Three Fiber One bars? Ill advised. By extension, do not have four Fiber One bars. And for the love of christ do not, under ANY CIRCUMSTANCES, have five Fiber One bars. It is not good for you and it will not be good for you. Seriously just trust me on this one.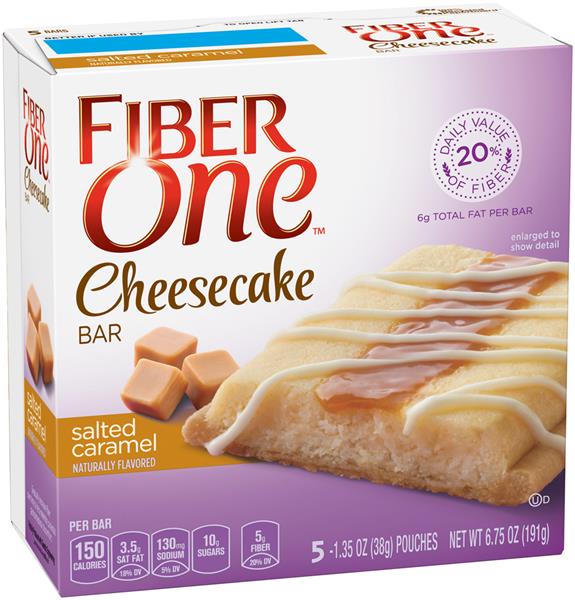 The Ultimate: The Caramel cheesecake one. The high-fiber snack of my dreams. Graham cracker crust. A cheesecake part that is sort of cheesecakey and instead more bready but it's fakebread so I don't even know what is happening. It's technically maybe non-refrigerated dairy but I don't even care.
The runners up:

The cinnamon coffee cake one – my gateway Fiber One bar, always in my heart forever.
Most of the brownie ones (but not the weird mint one) – I'm not big on chocolate as a concept but they are pretty good for fake brownies.
The lemon one – tastes a tiny bit metallic and is not as close to a lemon bar as other bars are to their namesakes.

Not my faves:

The strawberry cheesecake one – I am not a fan of strawberry gel in anything, from Pop Tarts to Nutrigrain bars to strawberry jam. If you are, go nuts.
The weird mint brownie one

Swing and a miss: The cranberry orange bread one. Flavor is ok but it's just way too chewy. Too much chew =  no Fiber One fakebread illusion. We can't have that.